BLYDE WAKE-UP CALLS
5 BURNING QUESTIONS TO DAPHNE DE WIT, SUSTAINABILITY COORDINATOR OF STATIK
The past years have laid bare many truths about our current model of capitalism — the severe income inequality and the belief that human lives and environmental impact are expendable for better profit margins. The changemakers in the growing Certified B Corporation community are demanding an end to the myth that profits must come at the expense of purpose, and environmental and social care. It's time to wake up, it's time for action. 
As a member of the B-Corp community Blyde believes in the power of the collective, in taking a stand and inspiring people by showing what can and must be changed. In our weekly Wake-Up Calls, we stir up hunger for positive change. We listen to several B Corp voices who talk about their call to action for companies around the globe today. By letting people from different perspectives and businesses speak, we would like to underline the important role of business in this decade of action. 'On stage' today: changemaker Daphne De Wit, sustainability coordinator of Statik.
Statik is a digital agency on a mission to make impact with sustainable solutions for online strategies. What was your wake-up call for contributing to a better world?
I have always loved communication, so I started my professional journey in the media and marketing industry. In approximately 2019, it didn't feel right anymore to create content for just any topic or brand. I wanted to use my skills for topics with a positive impact. That is when I became part of Statik. Statik is a digital agency that helps organizations with accessible technology. We ensure that the digital applications we build are easy to use for everyone, including people with a visual or motor disability, for example. Today I'm helping Statik not only to spread their story, but even more to shape its sustainability strategy together.
What is your call to action for companies around the globe?
Shift your focus from pure profit to people, profit and planet. You will be amazed at how much richness lies within. When Statik decided to only work with companies that actively endorse one of the SDGs – and don't contradict any of them either – we were initially afraid that we would lose customers along the way. But the opposite is true. Like minded organizations are finding their way to us much faster. We are proud of all our customers and our colleagues are happy to contribute to a unifying bigger goal. That is what 'business as a force for good' is all about for me.
Which SDG (Sustainable Development Goal) calls you most and why?
SDG 3: Good health and wellbeing. Even though it sounds like a cliché, wellbeing is such an important aspect of a workplace. That's why at Statik, we actively shape a workplace that embraces vulnerability and personal growth. This benefits both colleagues individually, our teams a whole and the way we complete our projects.
Call me a changemaker: your company in 2030… (biggest dreams, wishes, plans?)
… Is a workplace that, in addition to reducing its footprint (we will reduce our footprint by 50% by 2030), is above all a place where colleagues enjoy working while creating positive impact. Besides that we dream of shifting all our customers into true partnerships. We would like to join forces with other companies to set up impactful projects, even exchange colleagues and share profits in order to accelerate positive impact together.
If you could invite one company to join the B Corp community, what company would that be and why?
Good question. Within Statik we sometimes discuss our ideal digital impact project. On the one hand it is tempting to only want to work with companies that already share the same mindset. On the other hand it's often more interesting to convince a company that hasn't made the shift yet. That is why, for me, any company in the top ten of the world's largest companies – let's say Apple, Amazon or Microsoft – would be wonderful. If one of them joins the B Corp movement, that could be a very powerful signal to the rest of the word. Until then, we with Statik, along with thousands of other B Corps will take up our moral duty to push the limits of the current system.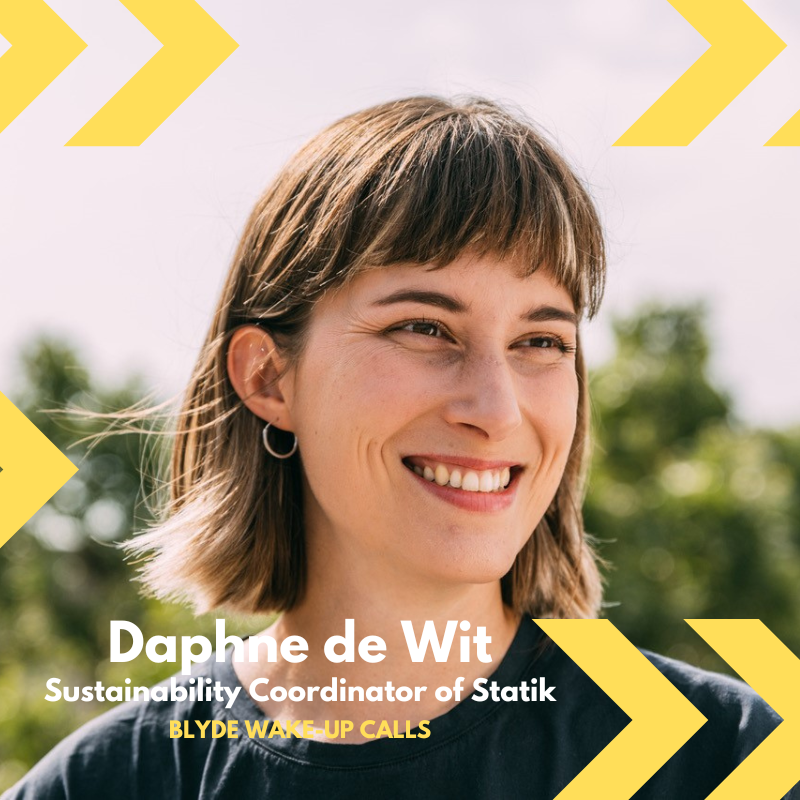 Hungry for more wake-up calls? Read the other interviews here!.